Catholic Family Night!
Catholic Family Night- 7-8:30pm on September 8th and on the second Friday of every month in the Church of the Holy Rosary, Castlebar. Our family nights include something for everyone: children's activities designed to pass on Faith, short adult presentations to grow in our own Faith, music and prayer with the Blessed Sacrament with fellowship and food to follow. All families and individuals welcome! More info on Facebook page fb.me@castlebarparish
Pastoral Council restarts including a cup of tea after masses!
The Pastoral Council will restart & continue to host the traditional cup of tea after masses on the first Sat/Sun of each month in the Presbytery & St. Aidans. The "Cuppa" has being missed over the past few months & it is hoped to keep it going! So please join us on Sun 1st Oct in St Aidans Islandeady & Sat 7th Oct in the Presbytery Glenisland for the Cuppa & a Chat!
Handel's Messiah at Knock Shrine!
Handel's Messiah will be performed at Knock Basilica on Sat 18th Nov at 7:30pm in conjunction with the RTE Concert Orchestra. Conducted by Proinnsias O Duinn together with Our Lady's Choral Society, Cor Mhaigh Eo & Ballina Chamber Choir. Tickets available now at www.knockmessiah.com & Downtown Records in Castlebar & Westport.
Parishioners in Hospital or in one of the local Nursing Homes...
If any Parishioner is in Hospital or in one of the local Nursing Homes & would like a visit from Fr. Chris, please call 087 1962674 or the Office 094 90 24125. Also, if any Parishioner in the Islandeady/Glenisland area is Sick or Housebound and would like to be visited by Fr. Chris on his First Friday visits, please contact him on 087 1962674 or the Parish Office on 094 90 24125.
Rural Transport Scheme for Islandeady!
A rural transport scheme will be available to the Islandeady community from the beginning of July. Anyone wishing to participate in the service should contact the following number 0949047571 to book a seat. There are two routes: one from Islandeady to Westport on a Friday leaving Islandeady at 9am and returning at 1pm. The second will be on a Wednesday arriving in Islandeady at 11:30am and leaving at 3pm. Members availing of the service will be picked up at their homes and returned to their homes. The Westport service will begin on 7th July 2017 and is available to everyone. The Wednesday service will start on 5th July 2017.
New Email address for all CHURCH and PARISH matters!
The new email address for all CHURCH andPARISH matters is:
islandeadyadm@gmail.com
Also for Newsletter:
liamkeaveney84@gmail.com
The previous patd@anu.ie is strictly for personal emails for the retiring PP (patd).
Islandeady GAA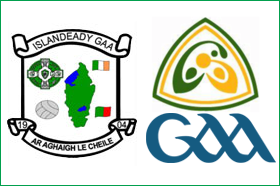 Islandeady GAA Lotto SUN 24th September at 8.30 pm in the Halfway. Jackpot €2,500.

For all Islandeady GAA News, see
www.islandeadygaa.com

Islandeady Cycling Club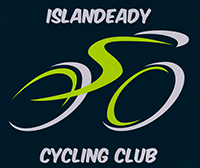 New membership for 2017 for cyclists of all abilities!
Islandeady Cycling Club located in Jacks old cottage Derrycoorane Islandeady Castlebar, is a leisure cycling club that is now open for new membership for 2017 for cyclists of all abilities.
The club members cycle as a group every Wednesday evening at 7pm and Sunday morning at 10am leaving Jacks old cottage in Islandeady and returning there for a much needed cup of tea.
We set up a beginners cycling group 6 weeks ago, they cycle every tuesday evening from Jacks Old Cottage at 7pm, and what a great success it turned out to be, getting bigger and better each week. So if you are thinking about taking cycling up for the first time in along time, then why not join us on Tuesday evening for a very enjoyable cycle! Join up today!
Our Club Members just recently particpated in the very popular Mayo Pink Ribbon Cycle and also the Cycle against suicide and will be taking part in the very popular Westportif at the weekend.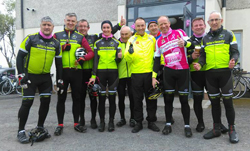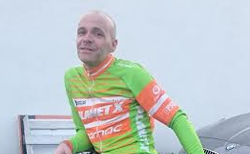 Club Members also completed a 6 week Training Skills course with the talented Mark Quigley. Huge thanks to Mark Quigley for six weeks of knowledge, skills, training tips, and general safety on the road. Watch this space for next course!
Club members will be taking part in the Cycle for Brother Kevin on the 19th and 20th May, Cycle for Brother Kevin (formerly 'The Great Escape') is a charity cycle event established in 2010 to raise funds for The Capuchin Day Centre for Homeless in Dublin City Centre. Participants leave Dublin City Centre on Friday morning, overnight in Drumshambo, Co. Leitrim, and arrive in Belmullet, Co. Mayo at about 6pm. 300 Kilometres, 2 days and alot of craic along the way. Best of Luck guys!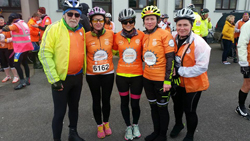 So if you are thinking of taking up Cycling, then why not join us Tuesday evenings for the beginners cycle or Wednesday evenings for the more experienced cyclist. And Sunday mornings for all abilities! We would love to see you there!
For more information on Islandeady Cycling Club visit their face book page at https://www.facebook.com/
islandeadycycling
or contact club president Joe Moylette on 0879443626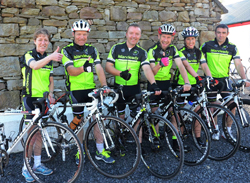 Thought for the Day!
'Kindness is the language which the deaf can hear and the blind can see' - Mark Twain.
Relay for Life!
Please support this weekend's Relay for Life in aid of the Irish Cancer Society at the Breaffy Arena. A group of people from the Islandeady-Glenisland Parish are taking part in this year's fundraiser in aid of the Irish Cancer Society. Pop in anytime over the 24 hours and show your support. Phone Lorraine 087 2814776.
NEW CATHOLIC TALK-RADIO STATION FOR IRELAND!!
NEW CATHOLIC TALK-RADIO STATION FOR IRELAND!! RADIO MARIA IRELAND is an Irish-run Catholic Talk-Radio Station. Established since May 2015 with the aid of the World Family of Radio Maria, our modern studio is situated at the Red Cow Roundabout in Dublin. We have already surpassed 6,000 monthly listeners in Ireland and around the world. Our mission is to help spread the Gospel message of Joy, Hope and Charity with a mixture of Prayer, Catechesis, Uplifting music, talks, Interviews and Testimonies – all commercial free.
New Mass Servers!
An application form for the new mass servers was circulated in the primary schools this week. The co-ordinators hope the forms can be signed by interested children & their parents as soon as possible so training can begin. Servers can start from 4th class upwards. Also, if you live in the Parish but your child attends school outside the Parish, they can still serve mass in Islandeady /Glenisland. For more info please contact Sephine on 087 7945629 or Breege 087 6707924.
The Wednesday Get-Together has resumed!
The Wednesday Get-Together has resumed after the Summer Holidays! New Participants are welcome as well as the regular members. A hot meal & social activities all for €5. Transport available to bring participants to the Centre. Willing hands & generous volunteers are kindly required to give a few hours to help out, if you are interested pop into the centre on Wednesday!
Workshop in Painting Icons at Knock!
A Workshop in Painting Icons will take place from 9th -14th October, in the Alexian Brothers Community, Knock from 9am-6pm. The workshop will be facilitated by Theodoros Papadopoulos, Icon artist based in Larissa, Greece. Course fee is €440 including all materials. A deposit of €190 is required to secure a place. Find out more at www.theodoreicons.com/knock or to book contact Sissel on 085 8006619 or email Theodoros: theodoreicons@gmail.com
Mayo/Roscommon Hospice coffee morning/evening!
Mayo/Roscommon Hospice seeks individuals, organisations & groups etc to hold a coffee morning/evening on their behalf on National Coffee Morning for hospice on Thursday 14th Sept. For further details call 094 93 88666 or email info@hospice.ie