Parish Pastoral Council meeting
Parish Pastoral Council meeting next TUES 10th at 7 pm in St Aidans room Islandeady.
Mayo Roscommon Hospice Memorial Walk
Mayo Roscommon Hospice Memorial Walk in aid of a loved one: Participate in the 5km memorial walk for local hospice/palliative Care services on Sunday April 19th. Free personalised T shirts if registered before 27th March. Phone 0949388666.
Social Dance in The Halfway
Social Dance in The Halfway Sat 7th with Golden Dream Band from 10 pm. Adm €8.
Refreshments after Mass
Refreshments in The Presbytery this SAT after 7 pm Mass. Everybody invited. Refreshments in St Aidans room this SUN after 11 am Mass. Everybody invited.
Islandeady GAA News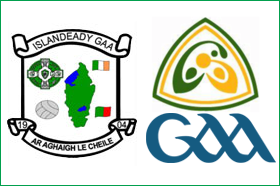 Islandeady GAA Lotto SUN 15th March at 8.30 pm in The Key West. Jackpot €12,700.

For all Islandeady GAA News, see
www.islandeadygaa.com

Lenten talks for 2015
Westport Pastoral Council invites you to take 'Time Out' from your busy lives & come along to the Lenten talks for 2015. Next TUES 10th at 8 pm Fr Fergal Cunnane on 'Faith and Light' in Carrabeg House beside the Church. (The Faith and Light movement was set up in the 60s to ensure that the human dignity of each person - particularly people with special needs - is recognised & respected.). TUES 24th at 8 pm Angela Hanley on 'Vatican 2 - Fact & fiction' - 'What connects me with the church', in the Plaza Hotel.
Community Council
Next meeting is scheduled for Tuesday, 10th March at 8pm in the Community Centre.
Mother's Retreat
Mother's Retreat 14th March 10am-4pm - Come to Esker for a day of fun & relaxation to reflect on what it is to be a mother. Experience mediation & relaxation. Ph 091 844549
Using Brain Power in the Classroom
This programme for teachers will illustrate how even basic knowledge of brain chemistry and neuroscience can help provide pupils with enhanced educational opportunity. Venue: Mayo Education Centre on Thursday 12th March at 7.30 pm. Presenter: Laura Coleman, Psychologist and Psychotherapist.
Missing pump FLASK
Missing or borrowed from St Aidans room around Christmastime: One tea/coffee pump FLASK (belonging to Timmy & Geraldine). If YOU just forgot please return it soon.