Islandeady Cycle Group - 24 hour Cyclathon!
Islandeady Cycle Group in association with Jacks Cottage & over 100 individuals from the wider community have organised a special 24 hour Cyclathon to help raise funds for the refurbishment & development of one of Islandeady icon heritage centres - Jacks Old Cottage. 100 people will execute a 24 hour continuous cycle in Jacks Cottage using turbo frames from 5 pm next SAT 31st to 5 pm SUN 1st. Everybody welcome anytime to drop in & give support to the volunteers participating or indeed to take a short spin on the turbo frames any time. See www.facebook.com/islandeadycycling or Phone Joe 087-9443623.
St. Brid's Special School Open & Enrolment Day
St. Brid's Special School Castlebar (beside entrance to Celtic football pitch) Annual Open & Enrolment Day THUR 5th Feb 10 - 3.30 pm. Caters for special needs pupils 4 - 18 years - Primary and Post Primary Levels. Come and see what the school has to offer.
fundraisers for a Lourdes Pilgrimage
St Brigid's Crosses made by St Joseph's secondary school for sale after Mass as fundraisers for a Lourdes Pilgrimage.
Islandeady GAA News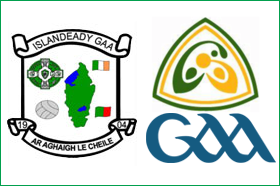 Islandeady GAA Lotto SUN 1st Feb at 8.30 pm in The Halfway. Jackpot €12,500.

For all Islandeady GAA News, see
www.islandeadygaa.com

A Wish ..... A Blessing for 2015 ....
' May YOU know that absence is full of tender presence
And that nothing is ever lost or forgotten.
May the absences in your life be full of eternal echo.
May you be embraced by God
In whom dawn and twilight are but one'
(John O'Donohue)
Thought for the Day
'Don't walk in FRONT; I may not follow.
Don't walk BEHIND; I may not lead.
Just walk BESIDE me & be my Friend'
(Albert Camus)
Islandeady Community Council Meeting
Next Community Council meeting is scheduled to take place on Tuesday, 10th February at 8pm in The Community Centre.
Computer Volunteers needed
Volunteers needed to give basic computer lessons on a one to one basis at the WED social get-together. If available Phone Philomena 087 9626075 or Patricia 094 9044797.
Thank You!
Thank You to everyone that supported the recent St Stephens Day Walk from The Key West, raising €1,520 for Neurofibromatosis Ireland. Well Done to all involved.
Crochet / Art / Painting Classes
Mary of the roses Charity shop: Crochet / Art / Painting Classes. Ph: 087 3942886.
Card Game
Card Game every MON night in Islandeady Comm Centre at 9 pm. All welcome.