Islandeady/Glenisland Cemetery Mass
Mass in Islandeady Cemetery this SUN 2nd at 11 am. NO Mass in Church on that day. Mass in Glenisland Cemetery will be on the bank holiday MON 3rd August at 12 noon. For Cemetery Masses, Pastoral Council and Community Council members & usual kind Volunteers are asked to help with Parking & Seating & all the jobs that need to be done.
Islandeady Community Council the Parish Outing/Tour
Keep the date free ! Arranged by Islandeady Community Council the Parish Outing/Tour which is open to all will be on SUN 23rd August. Bus leaving Islandeady Church Car Park at 12 noon. Watch this space for further details soon. Always a great day out.
Pilgrimage to Mamean
Pilgrimage to Mamean in the Maamturk mountains between Leenane & Recess next SUN 2nd Aug at 3 pm. Stations of the cross will be followed by Mass. Everybody welcome.
Pilgrimage to Lough Derg
Bus from Westport Fair Green for one day pilgrimage to Lough Derg on SAT 5th Sept at 6 am via Castlebar (Bus Stop) at 6.20 am. To book contact Bernie on 087 9870170.
Islandeady GAA News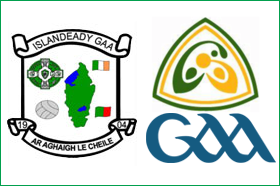 Islandeady GAA Lotto SUN 2nd August at 8.30 pm in The Key West. Jackpot €13,800.
Girls Football
The Islandeady G.A.A. club caters for girls who want to play football. At Under -6 and Under-8 levels, girls and boys play together. Contact Pat Ryan on (087)2704718 or Vinnie Feeney on (087)9048145 for further details. At Under-10 level there is a separate team for girls only. Contact Rory Courell on (086)2524467 for further details.

For all Islandeady GAA News, see
www.islandeadygaa.com

Knock Novena
Knock Novena starts on FRIDAY 14th August for 9 days at 3 and 8.30 pm daily. See Church notice board for Speakers and further details. Everybody welcome.
'Camino Trek 4 Hospice' challenge
Mayo Roscommon Hospice are looking for participants for the 'Camino Trek 4 Hospice' challenge - the Portuguese Way - from Oct 3rd to 10th. Join a group for reflection & time out. Well worth doing. Call 094 9388666 or visit hospice.ie for more details.
Mass at Knock Basilica - first official pilgrimage from the Archdiocese of New York
Invitation to RTE Broadcast Mass of welcome from Knock Basilica at 12 noon next SUN 9th Aug - to mark the first official pilgrimage from the Archdiocese of New York led by Cardinal Timothy Dolan. The celebration also marks the first Aer Lingus transatlantic flight from New York to Knock Airport. Take your seat by 11.45am. All welcome.
Islandeady Senior Citizens outing
Senior Citizens outing will take place on Sunday August 22nd.The route to be determined but no doubt it will be an exciting outing as usual with names to Liam @ 087 1361895. John @ 087 6390634 or any committee member.
Croagh Patrick Heritage Trail Guided walk & talk to the Boheh Stone!
Croagh Patrick Heritage Trail guided walk & talk to the Boheh Stone on MON 24th Aug at 7.30pm. Come & witness the amazing 'Rolling Sun' & immerse yourself in Mayo's pre-historic culture - a unique Neolithic feature. This is a moderate walk of 2 km. Meeting & registration at Brackloon Community Centre at 7.30pm. Refreshments served at the community centre with a brief talk before setting off for the Boheh Stone. €5 cover charge. Info from 094 9360891 or email info@croaghpatrickheritagetrail.com