Community text Alert Launch
The Launch of Community text Alert is on MON 10th Nov at 7.30 pm in Islandeady Community Centre and the community Liaison Garda will attend. Everybody invited.
Western Care chartity card game
25 Card Game Singles in Crimlin Comm Centre THUR 6th at 8.30pm for Western Care. 300 in Prizes plus spot prizes on each game and a raffle. Admission is 10 per person.
November Prayers in our parish Cemeteries
November Prayers in our parish Cemeteries this SUN 2nd November in Islandeady Graveyard at 12 noon and on SUN 30th November in Glenisland Graveyard at 12.30 pm.
Presbytery Glenisland and St Aidans Islandeady
The Presbytery Glenisland and St Aidans Islandeady are wonderful facilities which are available for FREE for all Church & Community occasions - after Mass or anytime. Catering and refreshments can be arranged by family, neighbours or community.
Foroige club Thanks
Islandeady Foroige club would like to thank everyone who came to our Halloween party on Thursday last. We raised over 100 for Temple Street children's hospital.
Islandeady GAA News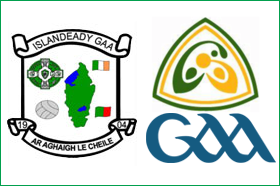 Islandeady GAA Lotto on SUN 9th at 8.30 pm in Marty's Halfway. Jackpot €11,900.

For all Islandeady GAA News, see
www.islandeadygaa.com

Parish Christmas Annual
Do you have any short stories, poems, jokes, old pictures & sayings that you would like to share for the Parish Christmas Annual ? The editorial team are now looking for contributions. We would like to receive material from people at home & abroad. The magazine will be on sale before Christmas & will be in local shops in Westport & Castlebar. All material can be posted to Patricia Rice in Islandeady Community Centre or email islandeadynewsletter@gmail.com before Monday 17th November.
Sale of Work
This year's Sale of Work takes place on Sunday November 16th at 2pm in Marty's Halfway House, Islandeady. This is an important Annual Fundraiser for the Community Council, and money raised from the Sale of Work goes towards the upkeep, repair, and improvement and associated costs of running the Community Centre, supporting local clubs, groups and initiatives such as the weekly Wednesday social, the youth groups etc.
Islandeady Gun Club Dinner Dance
Islandeady Gun Club 40th Annual Dinner Dance in The Halfway on SAT 1st Nov at 8pm. Music by Bros Walsh Band. Spot Prizes. Tickets 30 on the door or any club member.
Free Chess Club
Free Chess Club Cogaula NS 6th Nov for 6 weeks 6.30-8pm for children 8-12 beginners & experienced. Info Padraig Rowan on 098-26109 or Deirdre Kellett on 087-6109999.
Parochial House Islandeady - Leylandii Trees to go!
The Leylandii Trees overgrown onto the road from the Parochial House Islandeady need to be removed, cutting them back sufficiently to safety standards at this bad bend would kill them. It is hoped to replace them with a neat hedge - thus enhancing the village & improving the view of the Church over the lovely stone wall as you enter the village.
Anam Cara bereavement Information evening
Anam Cara bereavement Information evening on WED 5th Nov at 7.30 pm in the
Ballybane
Enterprise Centre,
Ballybane
, Co. Galway. Guest speaker is Peter Hanlon & the topic is
'A Parent's Grief & Loss'. All
Anam Cara Services are available free to bereaved parents.
Confirm numbers to
info@anamcara.ie
by Tues 4
th
or Ph 01 4045378.