Islandeady GAA Club presentation day
Islandeady GAA Club under 6 up to & including under 14
presentation day
is on next SUN 26
th
Oct at 1.45 pm. Special guest is Mayo senior footballer Cillian O'Connor.
Glenisland monthly 'Newsflash'
Glenisland monthly 'Newsflash' is available for Distributors to collect after Mass this weekend and is also available by email from: glenislandnewsflash@hotmail.com
Weekly Card Game
Card Game every MON night in Islandeady Comm Centre at 9 pm. All welcome.
Volunteer Overseas
Volunteer Overseas
next Summer with SERVE - an Irish development organisation, which works in partnership with the Redemptorists to support vulnerable communities in the developing world. An Information evening will be held at the McWilliam Park Hotel, Claremorris on next FRI 24
th
Oct at 8pm. Further info: 091-781231 or
www.serve.ie
Islandeady GAA News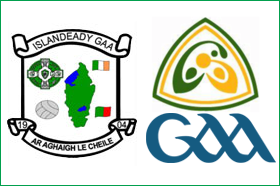 Islandeady GAA Lotto SUN 26th at 8.30 pm in the Key West. Jackpot €11,800.
Islandeady GAA Club under 6 up to & including under 14 presentation day is on next SUN 26th Oct at 1.45 pm. Special guest is Mayo senior footballer Cillian O'Connor.

For all Islandeady GAA News, see
www.islandeadygaa.com

Parish Christmas Annual
Do you have any short stories, poems, jokes, old pictures & sayings that you would like to share for the Parish Christmas Annual ? The editorial team are now looking for contributions. We would like to receive material from people at home & abroad. The magazine will be on sale before Christmas & will be in local shops in Westport & Castlebar. All material can be posted to Patricia Rice in Islandeady Community Centre or email islandeadynewsletter@gmail.com before Monday 17th November.
Sale of Work
This year's Sale of Work takes place on Sunday November 16th at 2pm in Marty's Halfway House, Islandeady. This is an important Annual Fundraiser for the Community Council, and money raised from the Sale of Work goes towards the upkeep, repair, and improvement and associated costs of running the Community Centre, supporting local clubs, groups and initiatives such as the weekly Wednesday social, the youth groups etc.
Club Contributions Fee
Club Fee's are due for the coming year for the use of the Centre. All fees are due by Wednesday October 29th. Fees are €100 for the year, and this covers clubs and groups for the period of their return until the finish. For further details, contact Patricia in the Community Centre on 094 90 44797 or 087 7761253 9-5 Monday and Tuesday and 9-1 on Wednesday, or Liam on 087 1361895.
Islandeady Foroige Halloween party Islandeady Foroige Club are hosting a kids fancy dress Halloween party on 30th Oct in the Community centre from 6 pm to 7.30pm. Cost €3 per child. Hope to see you there.
'Marriage Anniversaries'
'Marriage Anniversaries' Mass in Tuam Cathedral next SUN 19th at 3 pm for Couples celebrating 10th, 20th, 25th, 30th, 40th, 50th, 60th. All couples celebrating any anniversary welcome plus family & friends. Please phone Mary Connell at 094-9028473 if going.
Parish social get-together
Parish social get-together every WED at 11 am in Islandeady Community Centre. Dinner & a variety of Activities only €5. Names to: 094 9044797 or 087 9626075.
Anam Cara bereavement Information evening
Anam Cara bereavement Information evening on WED 5th Nov at 7.30 pm in the
Ballybane
Enterprise Centre,
Ballybane
, Co. Galway. Guest speaker is Peter Hanlon & the topic is
'A Parent's Grief & Loss'. All
Anam Cara Services are available free to bereaved parents.
Confirm numbers to
info@anamcara.ie
by Tues 4
th
or Ph 01 4045378.