Gathering at Jacks Old Cottage
The Gathering at Jacks Old Cottage SUN 3rd Aug. A mighty show organised don't miss out. Tickets now on sale for €10. See Poster for details or contact Joe at 087 9443626.
Macra na Feirme Dinner Dance and Reunion
Macra na Feirme celebrates it's 70th Anniversary this year. To mark this, Mayo Macra are holding a Dinner Dance and Reunion for past and present members on Saturday September 13th in Hotel Ballina
Islandeady Parish Outing/Tour
Parish Outing/Tour open to all on SUN 10thAug. Leaving Islandeady Church Car Park at 12 noon & Key West at 12.20 for Achill. Cost of dinner in Nevins, tea in Mulranny hotel, bus & fun only €20. Please give Names to Breege immediately at 087-6707924.
Personal Development Information Evening
Personal Development: Information Evening on 2 workshops exploring your Career Path and Building Confidence will take place in Mary Of The Roses Shop, Westport on Friday 1st August at 7.30 - 9pm. Contact 089 4932857 to receive more information on this upcoming event.
Islandeady GAA Headlines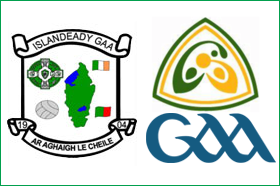 Islandeady GAA Lotto is SUN 3rd Aug at 8.30 pm in the Key West. Jackpot €11,200.
Islandeady Gaa would like to wish Mrs. Gallagher good luck as she retires from Cloggernagh NS. In Her many years of teaching in Cloggernagh she has educated a lot of past and present GAA players and we wish her good health to enjoy her retirement. Slan go foil.

For all Islandeady GAA News, see
www.islandeadygaa.com

Islandeady & Glenisland Cemeteries
Cemetery weekend in our Parish is on 3rd and 4th August with Mass in Islandeady Cemetery on SUN 3rd at 11 am & Mass in Glenisland Cemetery on MON 4th at 12 noon. Please inform people away from home about these dates so that they too can join us.
Volunteers & obliging helpers needed in Glenisland Cemetery for Clean-up & strimming on MON 28th July at 7 pm in preparation for Cemetery Mass on MON 4th at 12 noon
Child-minder Available
Mother available to mind one child in child-minders own home or available to do School pick-up from St Paul's National school Cloggernagh, for after school care. Please call (086) 8748530.
WED Social get-together, Special Outing
Our parish WED Social get-together next WED 30th will be a special outing to the Fr Peyton Centre Attymass. Please give names immediately to Patricia 087-7761253.
Islandeady Art Class
For the last year the Art Class has been taking place every Wednesday afternoon after lunch in the Community Centre. The work is over for this year but the present class has decided that they want to continue painting in autumn. Both men and women paint and some try their hand at home too, we are told. Well done to all concerned!
Islandeady Cycling Club
A new Cycling club has formed in Islandeady parish to promote & encourage individuals to get out on their bike & enjoy the sport of cycling. Information & Registration night is WED 6th Aug 8 pm in Comm Centre. New members welcome.
Myhomecare
'Myhomecare' are recruiting for their panel of carers in Co Mayo. Flexible hours and the opportunity to develop skills while working with the elderly and people with disabilities. For more info, please contact Michelle Ryan on 091 762 426 or email mryan@servisource.ie