Golden Jubilee couple !
In our prayers we honour Golden Jubilee couple Nora & Tommie O'Brien, Dooleague, married on 26th Sept 1966, & celebrating their 50th Wedding Anniv on SUN 25th Sept.
Wednesday Get-Together resumes!
Wednesday Get-Together resumes next WED 14th Sept 11 am. We look forward to seeing all our 'old' friends - participants & volunteers. For those who haven't been with us previously, this is the ideal opportunity to join us for a few hours of fun, food & activities. New volunteers most welcome (& needed) to join us. Looking forward to seeing you all.
Study the Catechism of the Catholic Church!
Courses on the study of the Catechism of the Catholic Church are available on Mondays beginning 19th Sept in Carrowbeg House Westport at 11am & on Tuesdays beginning on 20th Sept in the Monastery, Chapel St. Castlebar at 7.30pm. Call 087-2639726 for Info.
Class in keeping Accounts for local clubs, small organisations or small farmers!
A basic class in keeping Accounts for local clubs, small organisations or small farmers in Islandeady Comm Centre: An information night will be held in the next few weeks. The purpose of this meeting is to identify what type of course is needed. If interested, keep an eye on the Newsletter for the date and time. The instructor will be available on the night.
Folk Group Practice!
Folk Group Practices in Islandeady Church commence next TUES at 8 pm. Newcomers of all ages are very welcome. Any queries contact Jennie 087-2333393.
Anam Cara, new resources!
Anam Cara , the national organisation that supports bereaved parents, has produced some important new resources - all developed by bereaved parents. Short Anam Cara videos can be viewed at anamcara.ie/videos. If you would like a free copy of our Information Pack for Bereaved Parents, please reply with your address and we'll happily post it out to you.
Glenisland National School - New Role!
Glenisland Community Council would like to inform residents of Glenisland of their intention to turn the disappointment of the closure of our local school into a positive by using the premises as a focal point for the community. The best way we see fit to do this is to distribute a survey to all houses in the area. Using this survey we intend to put in place the requests of the community as best we can. We would appreciate everyone's co-operation in getting this project up & running as soon as possible. It is of the utmost importance to get as much feedback as possible as our aim is to build a community spirit that we can all be proud of. Thank you for taking the time to complete this survey.
Islandeady GAA News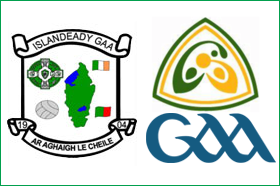 Islandeady GAA Lotto SUN 25th September at 8.30 pm in Marty's The Key West. Jackpot €3,100.
The G.A.A. pitch Walkway: the foundation of the Walkway is in and the ground is ready for seeding. The G.A.A and The Community Council need to continue to fundraise to keep the plans in motion.

For all Islandeady GAA News, see
www.islandeadygaa.com

Islandeady Cycling Club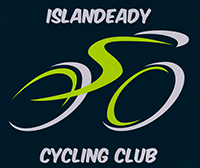 Islandeady Cycling Club located in Jacks old cottage Derrycoorane Islandeady Castlebar, is a leisure cycling club for cyclists of all abilities.
The club members have taken part in quite a few sportives in the recent months, such as Gran Fondo, Epilepsy Cycle, Pink Ribbon, Explore Mayo and most recently the Westportif & Gift for Life Cycle taking in beautiful scenery along the way. We had both members cycling and volunteering in road and motorcycle marshalling in these events.
Islandeady Cycling Club wish to Thank all who supported our recent Charity fun run in aid of the Melissa Patterson fund, €1200 Euros for this great charity was raised. The proceeds from our fun run will go towards encouraging disadvantaged children to take part in sporting activities. We had planned that Success for the event would be 150 happy participants - BUT we had in excess of 250 very happy participants on the day. The overwhelming feedback from everyone was hugely positive and everyone who took part thoroughly enjoyed their day - young & old.
We could not have completed the event without your support and good will - THANK YOU.
For more information visit our facebook page at https://www.facebook.com/ islandeadycycling or contact club president Joe Moylette on 0879443626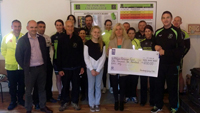 For all Islandeady Cycling News, see
www.facebook.com/
islandeadycycling

Thought for the Day!
'A smile communicates better than words.
If you're happy tell your face !'
Communions & Confirmations 2017!
2017 Confirmation in Islandeady will be on FRI 10th March at 12 noon.
2017 First Holy Communion in Islandeady: will be on SUN 14th May 11 am.
Communion Services, Liturgy of the Word & Holy Communion changes!
Communion Services ie Liturgy of the Word & Holy Communion in the event of Priest not being available for Mass: There will be Lay-led Services on TUES 11th Oct & TUES 25th at 7 pm in Islandeady Church and on WED 12th Oct & WED 26th Oct at 7 pm in Glenisland Church. All Readers, Min of Eucharist, Mass Servers are asked to attend at least one of these - as these Services involve changes for ALL of YOU. All invited.
Host a coffee morning!
Mayo Roscommon Hospice is appealing for hosts for a coffee morning at their home, place of work etc & help maintain local palliative care services in the community. Free coffee pack available. Ph 0949388666 or info@hospice.ie Please support this cause.
RSS scheme to help out at the Wednesday Get-Together!
Islandeady Community Council has been offered a place on an RSS scheme to help out at the Wednesday Get-Together. Interested person must be receiving social welfare payment & have a herd number or a close relative with herd number. Info from Philomena at 0879626075. For confidential enquiries Ph Tom Carolan S.W.M.D.Co 0872196930.
Islandeady-Glenisland Pastoral Council booklet of prayers, thoughts and reflections!
The Islandeady-Glenisland Pastoral Council is now finalising a booklet of prayers, thoughts and reflections for publication later in the year. We are still accepting prayers and reflections that would be suitable for inclusion. We would also like to hear from you if you feel you have an appropriate title for this booklet. Kindly forward these to Noreen Coyne at noreencoyne@eircom.net or pass these on to any member of the Pastoral Council.
Courses in the Family Centre, Castlebar!
Wonderful events & great courses are now commencing at the Family Centre, Chapel St, Castlebar. Booking and Info from 094 9025900 or see www.thefamilycentre.com
Keyboard lessons!
Keyboard lessons: Private half hour lessons. Beginners through to advanced. Islandeady area. Telephone Leanne at 0872165974