All schools in our parish are open again !
All schools in our parish are open again this week. We PRAY God's blessings on all children, parents, teachers, staff, boards of management as you begin a new school year.
Glenisland National School - New Role!
Glenisland Community Council would like to inform residents of Glenisland of their intention to turn the disappointment of the closure of our local school into a positive by using the premises as a focal point for the community. The best way we see fit to do this is to distribute a survey to all houses in the area. Using this survey we intend to put in place the requests of the community as best we can. We would appreciate everyone's co-operation in getting this project up & running as soon as possible. It is of the utmost importance to get as much feedback as possible as our aim is to build a community spirit that we can all be proud of. Thank you for taking the time to complete this survey.
Considering a career as a Chef?
If you are considering a career as a Chef, Mayo Abbey Training Centre are starting QQI Level 4 Professional Cookery full time course in Oct. Information eve at Hotel Westport between 2 pm & 4 pm next THUR 1st to find out more or call us on 094 93 65987.
Islandeady cycling club - recent Fun Run!
Members from Islandeady cycling club presented The Patterson family with a cheque for 1200 euros from the recent charity fun run held in Islandeady, the proceeds from this years event will go towards supporting children in disadvantaged areas to participate in sporting activities. Over 250 people from the wider Islandeady and breaffy community took part in this years fun run event.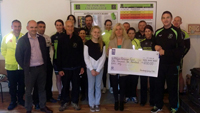 Islandeady GAA News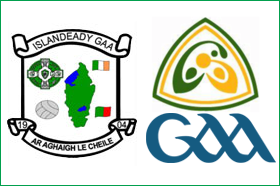 Islandeady GAA Lotto SUN 28th July at 8.30 pm in The Key West. Jackpot €2,900.
The G.A.A. pitch Walkway: the foundation of the Walkway is in and the ground is ready for seeding. The G.A.A and The Community Council need to continue to fundraise to keep the plans in motion.

For all Islandeady GAA News, see
www.islandeadygaa.com

Islandeady Cycling Club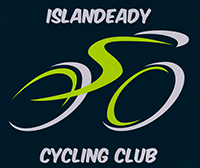 Islandeady Cycling Club in Jacks cottage: Club cycles have resumed WED 7pm & SUN 9am for Beginners-Improvers & Advanced. Also road skills training courses with Anthony Murray. To coincide with the Islandeady Family Festival, the Cycling Club is hosting their inaugural 5k & 10k family fun run on SAT 30th July starting at 10am from Jack's Cottage. Open to all to walk, jog or run the 5k or 10k course at your own pace. Bring the entire family & take part in our fun run. Funds raised will be donated to the Melissa Patterson Memorial Fund. €10 per adult, €20 per family & under 16 free. So pre-register now on active.com @ http://tinyurl.com/jxt8yph The race is officially measured and licensed granted by Athletics Ireland. So why not come and join us on SAT 30th July !
For more information visit our facebook page at https://www.facebook.com/ islandeadycycling or contact club president Joe Moylette on 0879443626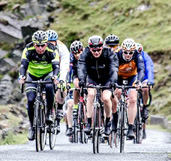 For all Islandeady Cycling News, see
www.facebook.com/
islandeadycycling

Thought for the Day!
' When it comes to staying young,
A mind-lift beats a face-lift any day '
Mayo Roscommon Hospice 5km memorial walk!
Mayo Roscommon Hospice 5km memorial walk takes place on Sunday 11th September in Castlebar.  You are invited to join the walk in memory of a loved one or someone you know- personalised t-shirt available. Call 0949388666 or email fundraising@hospice.ie
One day pilgrimage to Lough Derg !
Bus from Westport Fair Green at 6 am for one day pilgrimage to Lough Derg on next SAT 3rd Sept via Castlebar (Bus Stop) at 6.20 am. Ph Bernie 087 9870170 immediately. One of Ireland's oldest places of pilgrimage, Lough Derg, offers One Day Retreats on 4th, 6th, 7th, 10th, 12th, 13th, 17 th, 18th & 24th September.  Take time out in the nurturing peace of the Island & cross the threshold of the Holy Door in St Patrick's Basilica.
Places are still available on two alternative special Retreat Days - 'A Day of Friendship & Prayer' on WED 14th Sept.  An ecumenical day with Guest Speaker Most Reverend Patricia Storey, Church of Ireland Bishop of Meath & Kildare
Keyboard lessons!
Keyboard lessons: Private half hour lessons.  Beginners through to advanced. Islandeady area. Telephone  Leanne at 0872165974
Always wanted to volunteer overseas ?
Looking for a course about global social injustice? Learn more at the Viatores Christi (VC) - Information & Recruitment Session next WED 24th at 8 pm in Galway Diocesan Pastoral Centre, Newtownsmith, Galway or Tel. 01 8689986 apply@viatoreschristi.com www.viatoreschristi.com All welcome.
Dyslexia Association Mayo Branch!
Dyslexia Association Mayo Branch is offering a new senior cycle class for TY, 5th year & 6th Year students every Monday night from September to March. Phone 087 6335029.