Trocaire Thanks
Trocaire thanks you most sincerely for your generosity in supporting the organisation's work with people affected by conflict in the Middle East. Trocaire echoes the call of Pope Francis for your prayer for Christians and all other populations that are suffering at the present time, & for dialogue & reconciliation as the basis for peace.
Macra na Feirme Dinner Dance and Reunion
Macra na Feirme celebrates it's 70th Anniversary this year. To mark this, Mayo Macra are holding a Dinner Dance and Reunion for past and present members on Saturday September 13th in Hotel Ballina
Islandeady & Glenisland Churches
For the record - Islandeady & Glenisland Churches were built in 1820. According to local historian Paddy Browne (& recorded by Lewis in 1837) Glenisland church was built in 1820 at a cost of £150 & Islandeady church was built in 1820 at a cost of £300. The population of Islandeady parish at that time was 8,564. Sincere Thanks to Paddy.
Islandeady GAA News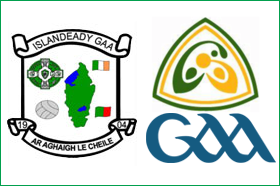 Islandeady GAA Lotto on SUN 17th Aug at 8.30 pm in The Halfway. Jackpot €11,200.

For all Islandeady GAA News, see
www.islandeadygaa.com

Child-minder Available
Mother available to mind one child in child-minders own home or available to do School pick-up from St Paul's National school Cloggernagh, for after school care. Please call (086) 8748530.
Parish Pastoral Council MEETING
Islandeady/Glenisland Parish Pastoral Council MEETING on TUES 2nd Sept at 8 pm in the Presbytery Glenisland.
Refurbished Presbytery Glenisland
The re-styled old 'Presbytery' in Glenisland - with a refurbished large meeting room - will be available from Sept for parishioners who normally avail of church services.
Anger Management programme
Knock Counselling Service 2 day Anger Management programme in Knock on Sat 6th & Sun 7th Sept 2014. Contact Peter Devers 094-9375032 or log onto www.knock-shrine.ie