Tour of Mayo Charity Cycle
Tour of Mayo Charity Cycle in support of Western Care SUN 6th Sept. A leisure cycle open to of all abilities with a choice of two starting points in Castlebar & Foxford & 2 scenic 50km & 90km routes around Loughs Conn & Cullen. Entry via raising sponsorship OR €30 entry fee either online or on the day. Info & sponsorship cards, etc. Email: fundraiser@westerncare.com. Online registration www.iregister.ie/tourofmayo
Preserving our heritage sites
The Co. Council have been contacted on the need to preserve our heritage sites especially in the light of the new road coming through the parish. Two cases have been highlighted; the ring fort at Knockbrack and the Browne Burial Vault at Rehins. The Council is to discuss the preservation of St. Brigid's Church ruins in Kilbree and the provision of a plaque at the Ambush Monument in Cloggernaugh which will translate the Irish inscription on the Celtic Cross there. For more information, contact the Heritage and Environment community group.
Tochar Paraic Walk
Tochar Paraic Walk takes place on Saturday 29th August departing Ballintubber Abbey at 8.30am. Contact 094-9030934 for further details. All welcome.
People who hear voices - Support group
A support group has been established for people who hear voices or have other similar experiences. There are 17 such groups around Ireland and this will be the first of this kind of support in the west. We have an information/launch evening on Friday 28th august at 7pm in the welcome inn hotel castle bar. All welcome to this informative evening.
Islandeady GAA News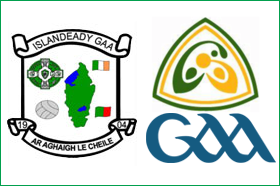 Islandeady GAA Lotto SUN 30th August at 8.30 pm in The Key West. Jackpot €14,000.
Girls Football
The Islandeady G.A.A. club caters for girls who want to play football. At Under -6 and Under-8 levels, girls and boys play together. Contact Pat Ryan on (087)2704718 or Vinnie Feeney on (087)9048145 for further details. At Under-10 level there is a separate team for girls only. Contact Rory Courell on (086)2524467 for further details.

For all Islandeady GAA News, see
www.islandeadygaa.com

And Our Work is Done
May God support us,
All the day long.
'Til the shadows lengthen,
And the evening comes.
And the busy world is hushed,
And the fever of life is over,
And our work is done.
Then, in His mercy, May He grant us,
A safe lodging,
A Holy rest,
And peace at last.
Islandeady Community Council the Parish Outing/Tour
Parish Outing/Tour open to all THIS SUN 23rd Aug. Leaving Islandeady Church Car Park at 12. Dinner in the Merry Monk Ballina at 1 pm followed by shopping or short tour. Stopping at Foxford Woollen Mills & Admiral Browne Visitor Centre. Back in Islandeady Comm Centre 6.30 pm for tea/refreshments/social & music by Paul Carney. Cost of dinner, tea, bus & fun is only €20. Names immediately to Liam 087-1361895 or John 087-6390634 or any Comm Council member. Always a great day. All welcome.
Burren Peaks weekend of Walking Festival!
Burren Peaks weekend of Walking Festival FRI 11th to SUN 13th Sept Ballyvaughan, Co Clare. An unforgettable way to explore this limestone landscape, the festival offers guided hill and lowland walks varying in distance and grade catering for all walkers. Choose from Ultra, Strenuous, Moderate or Easy walk. Groups, Clubs, and Individual Walkers welcome. Pre-Booking essential. Entry fees from €5 & closing date for entries 4th Sept. Info from www.burrenpeakswalkingfestival.com or Phone 087 7779714.
Refreshments after Mass - join us!
Please join us for Refreshments in The Presbytery this SAT after 7 pm Mass and in St Aidans room this SUN after 11 am Mass.
National Eucharistic Congress
National Eucharistic Congress takes place in Knock on Sat/Sun 26th & 27th Sept. See Poster in Church porch for details of Speakers & Workshops for the 2 days. All welcome.