Glenisland Cemetery Clean-up
Volunteers & obliging helpers needed in Glenisland Cemetery for Clean-up & strimming on MON 28th July at 7 pm in preparation for Cemetery Mass on MON 4th at 12 noon.
Myhomecare
'Myhomecare' are recruiting for their panel of carers in Co Mayo. Flexible hours and the opportunity to develop skills while working with the elderly and people with disabilities. For more info, please contact Michelle Ryan on 091 762 426 or email mryan@servisource.ie
Islandeady Parish Outing/Tour
Parish Outing/Tour open to all on SUN 10thAug. Leaving Islandeady Church Car Park at 12 noon & Key West at 12.20 for Achill. Cost of dinner in Nevins, tea in Mulranny hotel, bus & fun only €20. Please give Names to Breege immediately at 087-6707924.
Islandeady /Glenisland Community Games
For all the results of our recent Community Games, plus the recent Feile, please see our
Newsletter
page!
Are you Thoughtful ?
Some elderly & housebound parishioners have remarked how very much they appreciate it when a neighbour or family are thoughtful enough to bring them a copy of the weekly Parish Newsletter (or the monthly productions). They said that it helps them hugely to keep in touch with life in the parish. So are YOU thoughtful ?
Islandeady GAA Headlines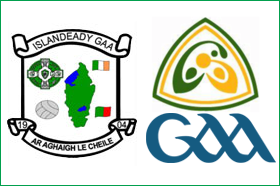 Islandeady GAA Lotto is this SUN 20th at 8.30 pm in The Halfway. Jackpot €11,100.
Islandeady GAA Cul Camp commences this MON 21st with Registration at 9.30 & continues each day 10 to 2.30 until FRI. Further details from Pat Ryan 087-2704718.
Islandeady Gaa would like to wish Mrs. Gallagher good luck as she retires from Cloggernagh NS. In Her many years of teaching in Cloggernagh she has educated a lot of past and present GAA players and we wish her good health to enjoy her retirement. Slan go foil.

For all Islandeady GAA News, see
www.islandeadygaa.com

Islandeady Cemetery
Cemetery weekend in our Parish is on 3rd and 4th August with Mass in Islandeady Cemetery on SUN 3rd at 11 am & Mass in Glenisland Cemetery on MON 4th at 12 noon. Please inform people away from home about these dates so that they too can join us.
Charlotte Devine, Special Olympics Winner
To mark the wonderful achievement of our former Mass Server young Charlotte Devine, Cortoon - winning 3 medals in recent special Olympics swimming - Islandeady Comm Council will make a presentation to Charlotte next SUN 20th immediately after Mass.
Mayo Roscommon Hospice 5km Memorial Walk
Mayo Roscommon Hospice 5km Memorial Walk this SUN 20th. The Mayo locations are: 1 pm from SuperValu stores in Castlebar, Westport, Kiltimagh & Claremorris, The Athletics Club, Belleek Woods Ballina. Registration from 12 pm. There will be a short memorial service before the walk so that you can take a few moments to remember the person/s you are walking in memory of. Refreshments served at the end of each route.
Social get-together BBQ
WED Social get-together in Islandeady Comm Centrewill be a BBQ on WED 23rd - starting with Mass at 12 noon. All invited. Following WED 30th will be an outing to the Fr Peyton Centre Attymass. Please give names immediately to Patricia 087-7761253.
Youth 2000 Summer Festival
Cistercian College, Roscrea THUR 14th to SUN 17th Aug. For young people aged 16-35, an opportunity not to be missed to experience the Catholic faith and meet many new people. This Festival has been nicknamed the 'Holy Oxygen' with over 1,000 young people from all corners of Ireland attending last year. The festival is donation only. Free buses available from towns throughout Ireland. For more information see www.youth2000.ie or phone 01 6753690 or join us on facebook.