New Boxes of Envelopes
THANKS to all who collected or delivered new Boxes of Envelopes available in Church. If name/address is wrong or you not receive a box contact Priest or the Pastoral Council.
Masses for people anxious about Exams
Masses for people anxious about Exams or any other TESTS of life on MON 25th May in Glenisland at 7 pm & TUES 26th in Islandeady at 7 pm. A Special Half Hour for Students, Family & Friends to PRAY for yourself and for all who are anxious. Everybody invited.
Postponed Spraying
Postponed Spraying takes place in Islandeady Cemetery this MON 18th at 7 pm.
Ladies Club Collection for Western Care
Please support the Ladies Club door to door May Collection for Western Care.
New CD from Sinead Healy
Sinead Healy from the Healy Quartet (who often brighten our Xmas morning in Church with their music) has a lovely new CD 'Shuffle the Deck'. See www.sineadhealy.com
Islandeady GAA News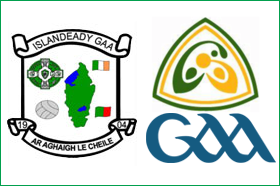 Islandeady GAA Lotto SUN 24th May at 8.30 pm in The Halfway. Jackpot €13,300.
Development Draw - Tickets for the Development Draw are now on sale, with many valuable prizes on offer. Work on new pitches and a walkway / running track is progressing well.

For all Islandeady GAA News, see
www.islandeadygaa.com

Thought for the Day
'Grief is the price we pay for Love'
Marriage is Important
'Marriage is Important - Reflect before you Change it' is the message of the Irish Bishops in the leaflet at the Church door. Please take a copy home with you. Marriage is of fundamental importance for children, mothers & fathers & society. We all need to reflect before we change it - respecting the views of people who think differently to us, trusting that our sincerely held views, grounded in Faith, will also be heard & respected.
End of an era in Glenisland NS
It is the end of an era in Glenisland NS as both teachers finish teaching there shortly. Ms Bernadette Flannery finishes this coming week (next WED 20th her last day in school) & Ms Patricia Lydon finishes next month. For the minds you trained & the hearts you moulded through a lifetime of dedicated & generous service we THANK YOU. We are all deeply indebted to you for the lasting impression for good that you leave on our children.
Alliance of the Two Hearts church gate collection
Please support the Alliance of the Two Hearts of Jesus & Mary church gate Collection next weekend 23rd/24th May - to benefit building project in the Philippines.
Music & song evening in aid of Irish Guide Dogs for the Blind
Tomas Langan & Joseph Deery music & song evening - in aid of Irish Guide Dogs for the Blind - on THUR 21st May at 8 pm in the Linenhall Arts Centre. A very special evening of nostalgia, music & song. Places limited. Adm €12. Booking at 094-9023733.
Rosary for the 5 Sundays in MAY
The Rosary will be said at Islandeady Church Grotto for the 5 Sundays in MAY at 8 pm - immediately after 7 to 8 pm Adoration - starting on SUN 3rd May. All welcome.