Weekly card game returns!
The weekly card game returns to Islandeady Community centre on MONDAY night 6th Oct at 9 pm. This season the card player of the year will be done on the basis that every game counts. The winner at the end of the year will receive €150. So come along early in the season - all those games add up! Only €5 weekly and refreshments are served.
County Board Draw
Congratulations to the 5 Islandeady Winners in the County Board Draw, who purchased their tickets through the Community Development Lotto. The Winners are: Brendan Moylette, Margaret Cooney, P.J McDonagh, Noreen Heston and Mike Warde.
Western Alzheimers information day
Western Alzheimers information day the TF, Castlebar on next FRI 3rd Oct from 11am to 4pm. If you are caring for a loved one suffering from Alzheimer's or if you are worried about Alzheimer's then you will find this meeting to be very informative.
Badminton
Badminton in Rice College MON 15th & continues Mon & Thurs 8-10pm. €5 per night.
Thought for the Day
'A smile communicates better than words. If you're happy tell your face !'
Islandeady GAA News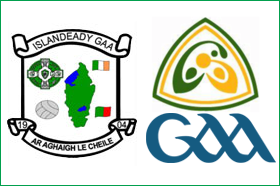 Islandeady GAA Lotto SUN 28th at 8.30 pm in Key West. Jackpot €11,600.
Islandeady GAA & Community Council Open Morning where the new training pitch, walkway areas etc can be viewed is next SUN 5th Oct at 11.45 am at Islandeady GAA Pitch. Everybody invited. Thank you to everyone who supported the annual underage fund raising night held in the Key West last Friday. A special thank you to the Sponsors.

For all Islandeady GAA News, see
www.islandeadygaa.com

Sale of Work
This year's Sale of Work takes place on Sunday November 16th at 2pm in Marty's Halfway House, Islandeady. This is an important Annual Fundraiser for the Community Council, and money raised from the Sale of Work goes towards the upkeep, repair, and improvement and associated costs of running the Community Centre, supporting local clubs, groups and initiatives such as the weekly Wednesday social, the youth groups etc.
Club Contributions Fee
Club Fee's are due for the coming year for the use of the Centre. All fees are due by Wednesday October 29th. Fees are €100 for the year, and this covers clubs and groups for the period of their return until the finish. For further details, contact Patricia in the Community Centre on 094 90 44797 or 087 7761253 9-5 Monday and Tuesday and 9-1 on Wednesday, or Liam on 087 1361895.
Fundraising Coffee Morning
Fundraising Coffee Morning In Islandeady Community Centre On Tuesday 7th October 2014 From 9am - 1pm. All Donations will go towards The Wednesday Social Get-together Group. Your support and donations would be greatly appreciated.
Parish social get-together
Parish social get-together every WED at 11 am in Islandeady Community Centre. Dinner & a variety of Activities only €5. Names to: 094 9044797 or 087 9626075.
Vets Information evening
Castle Vets Information evening in The Halfway Islandeady on THUR 9th Oct at 7.30 pm. All welcome.
Community Centre Keys
Due to some recent incidents, The Community Council have agreed to change the locking system. In order to make sure all clubs have a key we would ask all Key holders at present to Register for a new key with Patricia on 094 9044797 before 8th of October.